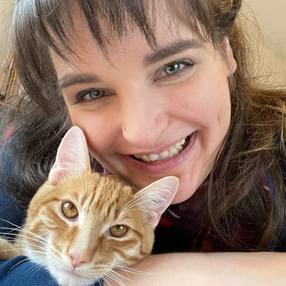 Cresaya E. Kingsbury @ Wild Foxgloves Counseling
(She/Her)
Professional Counselor Associate
MHCA.MC.61068879
Supervisor: Gina Waggoner, M.A. LMHCA
So often we settle for less. I invite you to step into a life full of more.
Client Status
accepting clients
At a Glance
Me
Rate: $135
Provides free initial consultation
Provides telehealth services
Practicing Since: 2020
Languages: English
Insurances Accepted
Out of Pocket
Out of Network
My Ideal Client
Does your heart feel numb? Maybe you've forgotten what it's like to dream, risk, be creative, or feel yourself. Perhaps you love sleep, but it doesn't love you. Others say you look great, but you hate your reflection. Or, the past makes living in the present difficult. You long to know how to have a voice in the presence of others. You long to feel whole, fully alive, or to enjoy sex with your partner. If this speaks to you, I invite you to schedule a free consult.
My Approach to Helping
Everything about who each of us is began somewhere—whether we know that beginning, or are searching for it. These beginnings hold the answers we seek about ourselves, and the keys to the healing we hunger for. ​ I strive to provide the support you need to turn over the leaves of your life, discover the roots of what holds you back, and to re-author your future. As you begin to find what is true of your story and learn to hold the beauty with the brokenness, the seeds of change begin to grow: the ability to hope, risk, and desire, to hold your story with kindness, and understand yourself in a way you never have before. These are the foundations of flourishing. Often we don't understand why we feel or react the way we do; to know our story and rediscover hope sometimes we need someone alongside us.
Why I am a Good Fit for You
Hello! I'm Cresaya E. Kingsbury! My story brought me to the counseling profession. I have known both deep suffering and the profound restoration of beauty coming from the ashes. I am real and authentic, and passionately committed to my own healing journey to walk with you deeply. I consider it a sacred privilege to journey with adult survivors of childhood abuse seeking restoration for what's been stolen. I completed a certificate in Narrative Focused Trauma Care Level I at The Allender Center, and I am pursuing additional post-graduate training via the Level II certificate in Narrative Focused Trauma Care at The Allender Center. During my season as a pre-licensed professional, I am supervised by a seasoned trauma counselor. My graduate school internships were centered around clients who had suffered childhood abuse or trauma. Outside of the office, I revel in the beauty of the Pacific Northwest, gardening, reading, adventurous food, and time with my beloved four-footed friends.
Techniques I Use
Specialties
Attachment Theory

Our formative relationships and experiences shape our understanding of ourselves and others, and form the patterns of how we relate to others. Turning over the leaves of these relationships and experiences can bring profound healing, understanding, and kindness to oneself.

Narrative 

Our lives are stories. Stories of the relationships and events in our lives, how we internalized those and what others told us. Narrative counseling invites us to turn over the leaves of life: to discover what's true of our story, hold the heartache that is difficult to bear, and to name and bring kindness and compassion to the places where we have been harmed and have harmed.
Issues I Treat
Specialties
Historical Trauma

We live in a broken world and each of us has faced deep harm of some kind. Though the effects linger, I believe healing is possible. I welcome and cherish your stories of heartache, harm, and trauma and seek to hold them with utmost kindness. I consider it a sacred privilege to journey with adult survivors of childhood trauma and abuse, who seek restoration for what has been stolen.

Anxiety

Anxiety takes many forms, and sometimes we know it simply as nervousness, anxiousness, panicking, or being worried. I invite you to bring kindness to yourself in the spaces where you feel anxiety. To be curious about the story your anxiety tells, and in this kindness and curiosity, find the answers and healing you desire.

Depression

Your sadness, feeling empty, or depression tells a story. I invite you to bring kindness to yourself for why you feel these things. To be curious about your story. And, in that journey, find the healing and joy you long for.
Cresaya E. Kingsbury @ Wild Foxgloves Counseling has not posted any group sessions.

Cresaya E. Kingsbury @ Wild Foxgloves Counseling has not published any articles.
Contact Cresaya E. Kingsbury